about

When We Were Wolves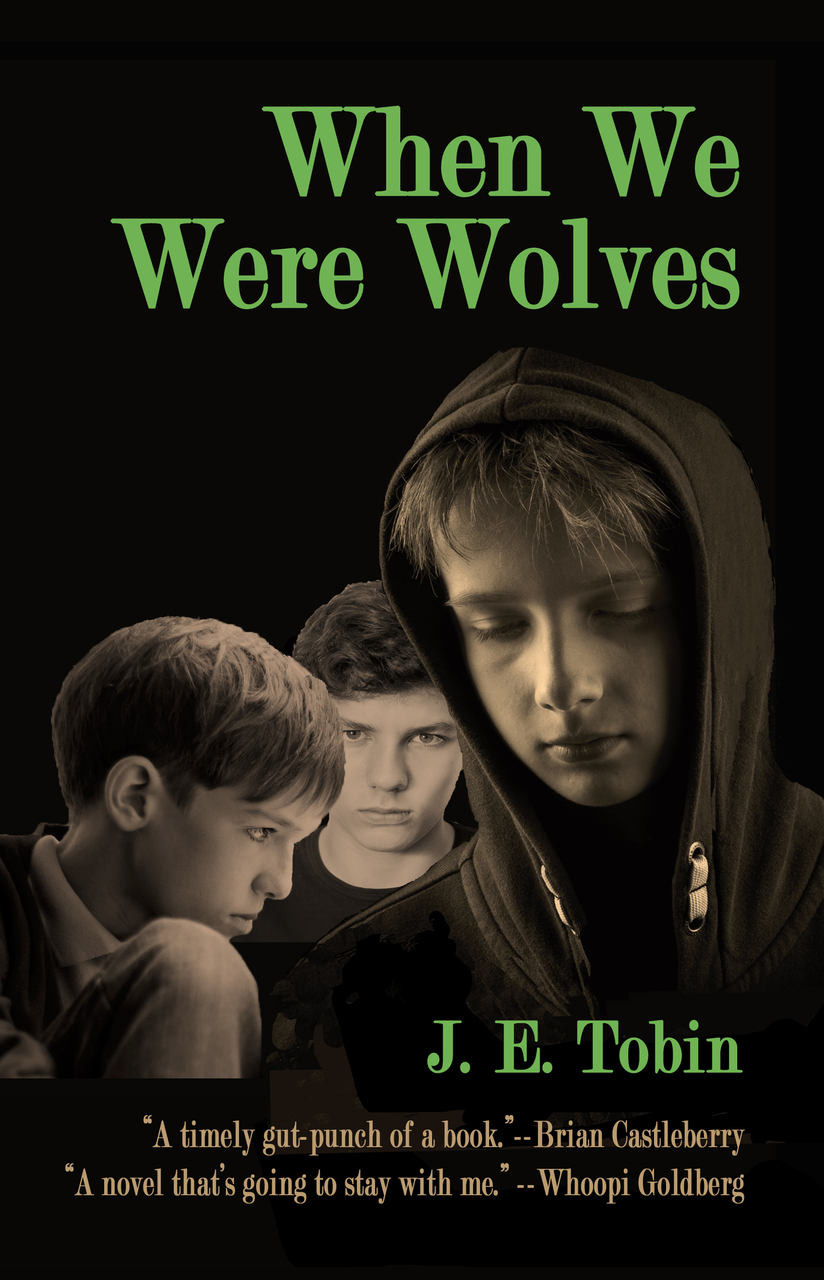 Tom Wingfield lives in a small Virginia town famous as the birthplace of U.S. presidents and Sonny Rawlins, America's most celebrated college coach. When a boy accuses Rawlins of a horrible crime, Tom knows what will happen to him, his wife, Meghan, and his children if he comes forward with his own accusations. At first, he chooses silence but memories of long ago force him to risk everything to pull the Great Sonny Rawlings off his pedestal.
When Tom confronts his former coach, he sets off a chain of events that plunges his family into a media storm. Only an act of courage can save Tom and the life he has built. He must enter Rawlins' Monster House one more time.
 An Excerpt:
Chapter 1
MORNING
In dark corners lurk memories I wish I could discard like trash on collection day. I'd stuff them into black plastic bags and drag them to the edge of the driveway. There, unknown men with bulging bellies would swoop down from a hauler, fling bags of festering thoughts and emotions into the hopper, and drive away, freeing me from the stench.
        But unwelcome memories have soldered circuits in my brain, and no mental engineering can purge them. No matter what I do, these experiences stay hardwired on my motherboard. A word, a sound, a smell, a taste, a song, a face — not identical but close enough — can trigger a rush of fear or shame.
       I am my own torturer.
       Of course, I would not cast off cherished memories: The game I scored my thousandth point for Saint Anthony's High School, my wedding celebration, the birth of my twins at 3:12 and 3:27 in the morning. These and other moments remain vivid in my memory and underpin who I think I am. They fill most of the pages in the scrapbook of my life. If I rely on numbers alone, I might say I was blessed. But the bitter memory, unlike the sweet, leaves a scar.
        Such a memory is the day I heard the news about Coach Sonny Rawlins.
        It was a warm Saturday morning in November in my hometown of Redfield, a college town in the Tidewater region of southeastern Virginia. Indian summer had favored the area with temperatures that rose each day into the low eighties with no sign of rain. Still dressed in my pajamas, I nurtured a second cup of coffee at the kitchen table and listened to my eleven-year-old twins, Samantha and Noah, playing Super Mario on my office computer. Through a window, I watched my wife, Meghan, gardening in the front yard. She bent over to pull out chickweed. The wide brim of her straw hat concealed her face until she lifted her head and wisps of autumn-red hair fell from her tan face. She was as beautiful as she was thirteen years ago when I first met her. Her eyes were green and almond-shaped with laugh lines nesting over high cheekbones and full lips. Her strong chin flaunted a pugnacious quality I've always admired.
       Clothed in khaki pants, red clogs, and one of my discarded blue denim shirts, she roosted her hands on her hips and smiled as if she knew I was looking at her. I didn't think she could see me through the open slats of the wood shutters, but I wasn't sure. She always surprised me with what she took in around her, even more so because I was often oblivious to what was obvious. She liked to say she had radar while I had blinders. Maybe that was true, but, looking at her as she stood amid her butterfly bushes, salvia, and lantana, I couldn't imagine myself being more open to what I was feeling. I waved and hoped she would do the same.
       As if on cue, Meghan bent down to continue her gardening. I finished my coffee and stood as a rap song began to play on the radio. In no mood for rap, I turned the dial to the local news program. The top story highlighted measures taken to prevent the college fraternities from renting houses in the "quiet part of town." Starched shirt hypocrites, I thought. You live in a college town. Learn how to live with young people. I was an English teacher/basketball coach at the local high school, so juvenile behavior did not disturb me. I was more afraid of living in a place zoned only for adults: no playsets, no kids running on the grass, no trick-or-treaters, or unfenced laughter. In Redfield, adult communities surrounded us, and each year their encroachment tightened like a noose.
       While I was inveighing against my fellow citizens, the news anchor reported that he had breaking news about Coach Sonny Rawlins, the famous college basketball coach and four-time NCAA national champion. My ears perked up. He's dead, I thought.
        I waited for confirmation, but the co-host said, "These and other stories coming up after this word from our sponsor."
        "Damn it!" I shouted and slammed my cup down on the kitchen counter.
        Sonny Rawlins was a true hero in these parts. He grew up in this town and lettered in basketball, football, and baseball. In a glass case outside the general office in Jefferson High School where I teach, the biggest trophies sport his name. Sonny Rawlins, the hometown boy, the kid who made it big. He won a free ride at Indiana University playing point guard for the Hoosiers, making first-team All-American his last two years. An injury ended his chances in the NBA, but he quickly proved just as successful in coaching, first back at Jefferson High, then at a Vermont college, and, finally, at Kingsbury University in North Carolina, where he became a legend.
       The commercials ended, then the news returned. I waited for word of Sonny's demise. I don't know why I thought he was dead. More-likely scenarios could account for his name in the news. He was a national celebrity, and as such, demanded attention. Besides coaching, Sonny wrote best-selling books on leadership, hosted a weekly sports show, twice appeared on Saturday Night Live, and spearheaded the USAKidz Fund that mentored at-risk boys and girls in all fifty states. Perhaps Sonny was selected to take over the U.S.A. Olympic team or offered a coaching job in the NBA or signed a new endorsement deal.
        Or maybe he was dead.
        He was only fifty-three years old, but I could not stop thinking that the bright star that was Sonny Rawlins had finally burned out and imploded.
       And that would be good news.
       Four news stories comprised this segment: a double murder in Hampton, a mail fraud case in Newport News, an announcement of a bridge closing for repairs, and a fluff piece on singing dogs in Birmingham, England. While I listened, I cleaned the coffee pot, my cup, and the kitchen counter.
       I pictured Sonny Rawlins as I last saw him a month ago standing at a podium giving a speech in the new high school gym — the one named after him — and thanking the people of Redfield for honoring him. He looked older than the man I idolized as a boy, but he still had that aura about him that made people feel they were the only person in the room when he looked at them. His blonde hair was longer now, pushed back, and streaked with grey. Lines etched his face, but his jaw remained broad and determined. His eyes were deep blue and unreadable.
       I recalled that he moved away from the podium that day, working the crowd, his lean body as electric as that of the athlete he had been. The audience of students, teachers, parents, and community leaders laughed and cheered as he told his jokes and stories. He was one of their own.
       The radio voice interrupted my musing. "We'll be right back with the weather, traffic report, and the startling news about Sonny Rawlins after these brief messages."
       I cursed WXIM for dangling teasers to keep me listening to its news show. Was the competition for ratings so great the station had to piss me off to keep its sponsors? I yearned to turn off the damn radio and smash it to pieces. The mere mention of Coach's name uprooted memories from where I had buried them. I couldn't push them back even if I wanted to.
       I glanced out the window but did not see Meghan. Perhaps she was at the side door ready to enter. I prayed for something to catch her eye and divert her. She disliked anything out of place, and an errant weed would lure her like sugar water lured hummingbirds to a feeder.
       The WXIM theme song played, then Jim Stanton welcomed back his audience. His voice was deep and sincere in a studied way. In my mind, I pictured his face with its hardened smile and classic side-part.
      "And we have breaking news on our own Sonny Rawlins. Police authorities in Hillsborough, North Carolina, announced this morning that they arrested Charles 'Sonny' Rawlins for an alleged sexual assault on an eleven-year-old boy. Mr. Rawlins's lawyers declared him innocent on all charges. Reporters at our sister station, WKNC, attempted to contact the Hall-of-Fame coach, but his spokesperson referred all calls to his lawyers. For more on this story, we go to …"
        The reporter added little new information. He reeled off the condensed version of Sonny's rise to fame. A priest mentioned his charitable work and praised his character. A fellow coach expressed shock at the charges and suggested that no one rush to judgment. The reporter ended with that famous clip of Sonny rallying his team in the locker room at halftime the year they came back to beat the highly-favored Kentucky Wildcats in the national championship game. The pep talk was ten years old, but it was still popular with viewers of ESPN and YouTube. It's emotional and inspiring. It reaches a crescendo when Coach lifts his players by the sheer force of his will and sends them out to win the game.
       I can hear him in my head even now. His voice never changes, the cadence the same now as it was ten years ago, the same as it was almost thirty years ago when I first met him. His voice is so unlike the sound of Jim Stanton. His diction is not polished and practiced. Cornbread and grits flavor its inflection. His pacing breaks with passion and stumbles on its momentum, mixing metaphors and grunts into a call to arms. The resonance is seductive, the rhythm memorable. And, unlike Jim Stanton's staged delivery, no feigned sincerity taints Sonny's voice. He believes in everything he says.
       Even if it's a lie.